Games by Theta Games
To download/play a game, simply click on the link below each description. Enjoy!
TrafficWorlds
TrafficWorlds is a traffic management game, playable in browser. Place roads and set stoplights (and other mechanisms) at intersections in order to maintain and expand an efficient traffic grid (and make money). More detailed documentation and instructions can be found at the main link for the game below.
Like ĐiệnWorlds, this game has no definite end. See how many weeks you can maintain an efficient grid and make money; the game is meant for players to explore and experiment with strategies to see what works best. If you get stuck, just start over ("Regenerate" at the main menu) - the game doesn't take particularly long to "mature."
ĐiệnWorlds
ĐiệnWorlds is a management/sim/strategy game in which you place wires and other components to power houses and businesses, to (in turn) make money from them and (hopefully) make a profit. At its core, ĐiệnWorlds follows the rules of the cellular automaton Wireworld (created by Brian Silverman in 1987). For flavor and for gameplay purposes, other rules and overarching mechanics have been added.
The game has a general "goal" of making money and avoiding high debt, but other than this, it invites the player to discover strategies, arrangements, and setups that work best in their situation. As the developer, I don't even know what kinds of strategies (if any) are "optimal" - but I think that an important element of what makes these types of games fun is this kind of exploration. The underlying Wireworld-like simulation is fun to interact with as well - I'd like to think the game has a certain mathematical "depth" to it. In general, testers have found both the game's micro- and macro- mechanics to be addicting and engaging.
ĐiệnWorlds is mostly finished. Of course, bugfixes will warrant additional patches, and there may be future versions of the game if I think of additional features to add.
IMPORTANT: This game has no tutorial. I would highly recommend reading the ĐiệnWorldsInstructions PDF, found in the main download .zip (or viewable at the link below) to learn how to play (at the very least, consult the "In-Game Controls" and "Starting your first game" sections).
For those with slower connections (or who might want a more lightweight download), I've uploaded a version without any music (which cuts the filesize from 96 MB to about 1.5 MB). For this version, click the second download link (with "_nomusic" in the .zip filename).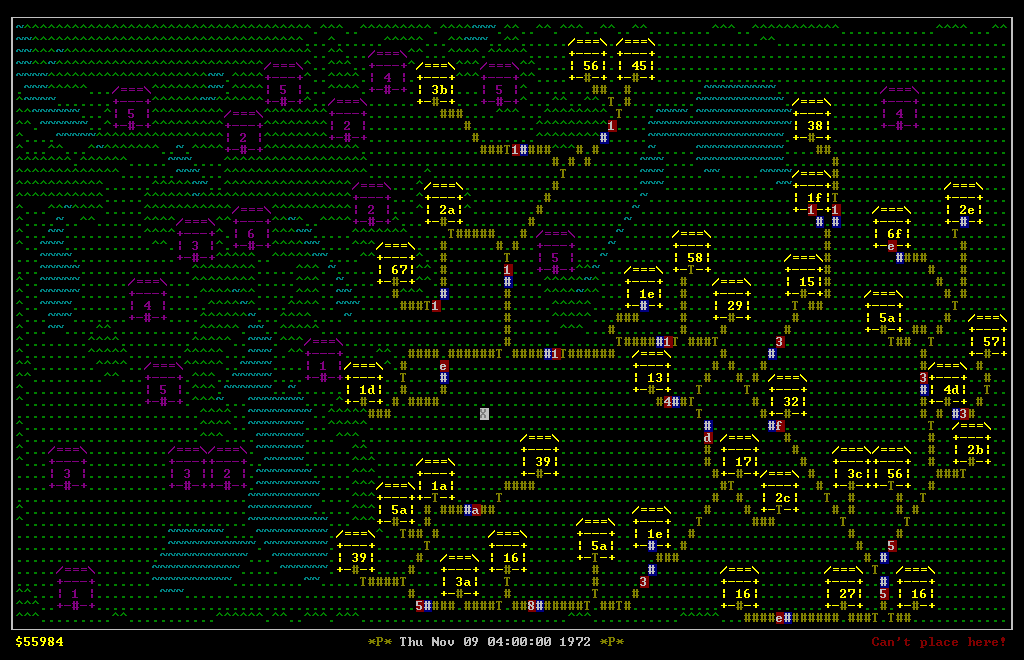 Towers of Saigon
In 2D! Made with PuzzleScript.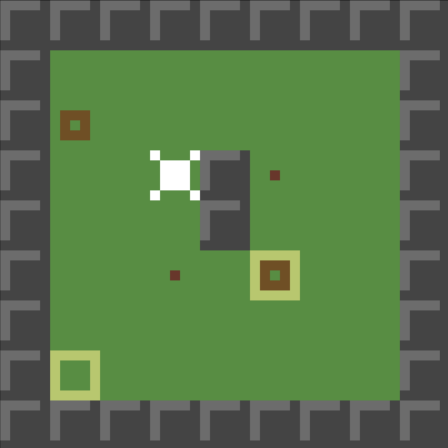 A Colored Topology
You are a cloud. Move with the arrow keys, and use [X] to protect your friends. Wait at the title screen to cycle through color scheme options.

This game is part of the SHARECART1000 project. For maximum effects, make sure you put the folder 'a_colored_topology' in the SHARECART1000 directory with other SHARECART1000 games. Please visit http://www.sharecart1000.com/ for other SHARECART1000 games.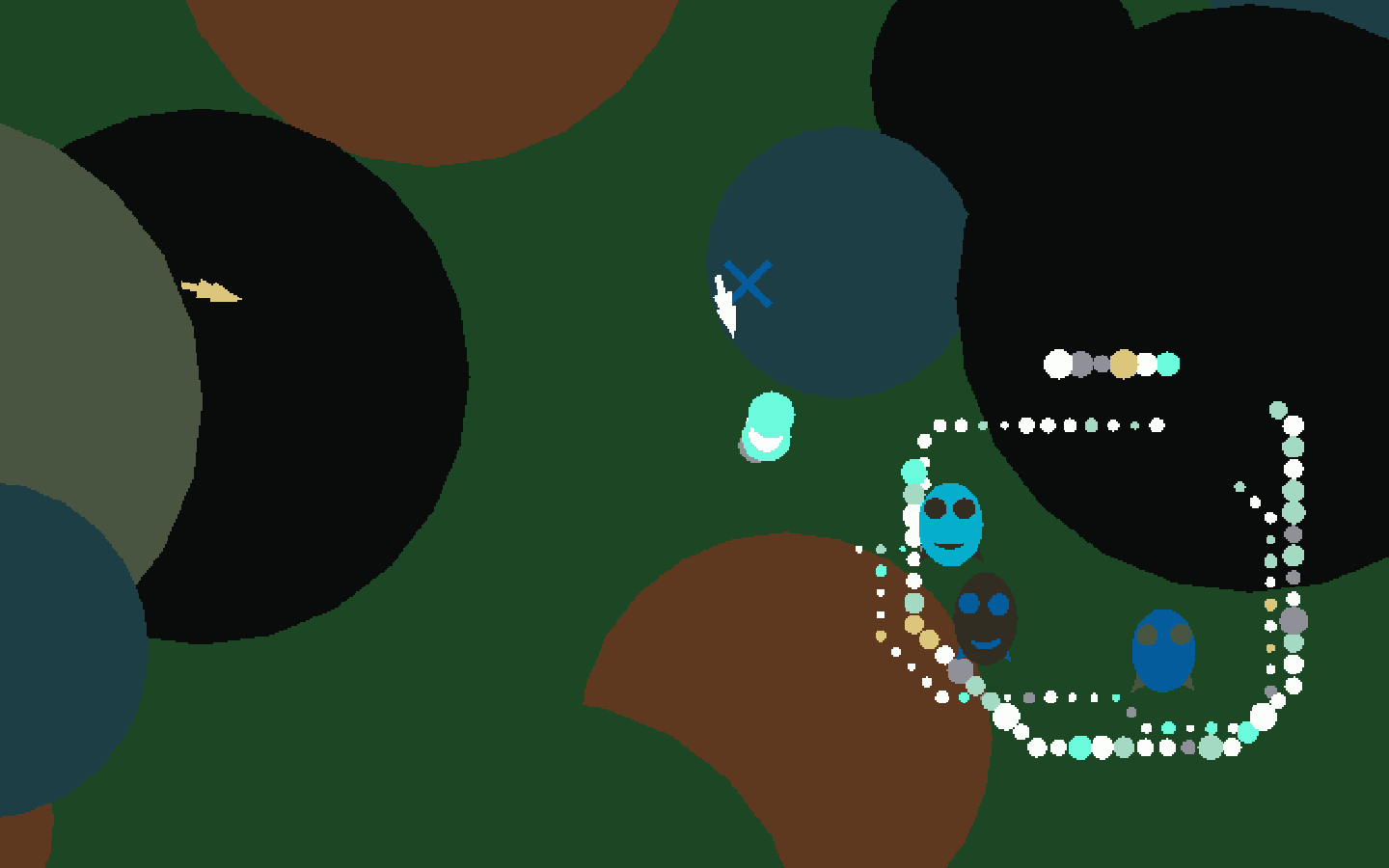 Ceramic Painter
Following the events of Ceramic Shooter: Electronic Poem, the main character finds himself in an 8-dimensional normed vector-space. It's rather grey - so he decides to fill it with color. Ceramic Painter is an endless, procedurally-generated SHMUP which "evolves" as you play. Each enemy possesses six continuously-varying parameters (e.g. fire-rate, bullet speed), which are passed on to future generations if the enemy survives or hits you. Destroying an enemy yields a powerup, which you can collect to increase your ship's own abilities.
TOTTENHAM
TOTTENHAM was inspired by the mosaics of Sir Eduardo Paolozzi, at the Tottenham Court Road London Underground station. Your goal is to upgrade subway lines. Using explosive charges, you must clear a path from the start to the end, in order to lay the line. Pests in the area must also be eliminated.
Composition Piece
This is another game I built around a piano piece. In this game, you play as a young composer, and the scrolling-platforming gameplay serves as a metaphor for his creative process.
Mirror I
Mirror II
Ceramic Shooter: Electronic Poem
The sequel to Ceramic Shooter; this game is composed of one continuous level, which is synchronized to the background music. As in the original, throughout the majority of the game, the goal is to not shoot or crash into anything. However, these objectives may change (in a colorful manner) as the game progresses.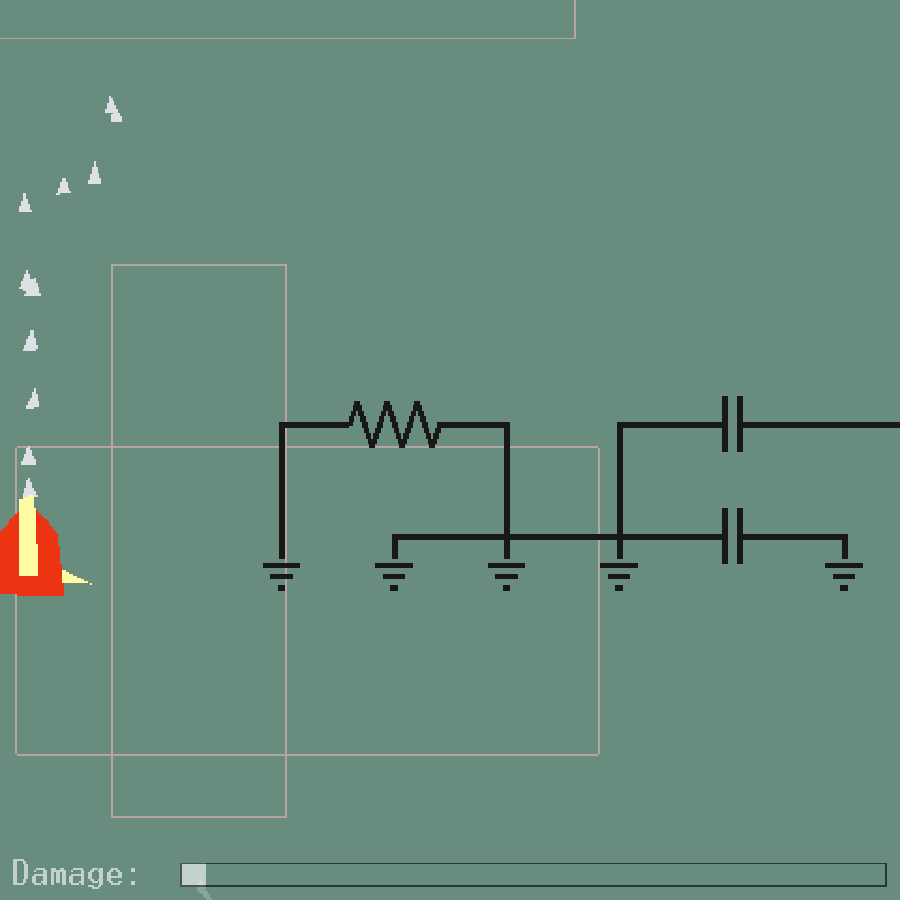 Mirror
Coulomb's Law (and Biot-Savart)
An entry to the informal TIGSource Love Letter Competition, Coulomb's Law is a simple game about attraction (and electromagnetism). In order to bring a positive charge toward the goal (a negative charge), you must place other positive charges to repel and guide it through the level. The game placed fifth in the competition.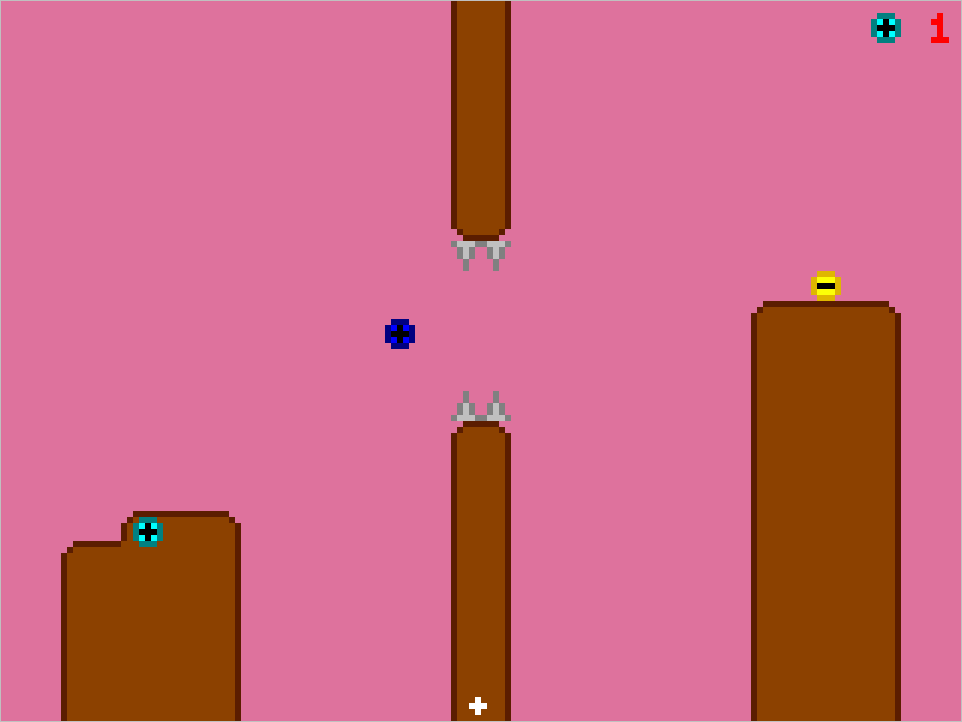 A Sea of Soil
In A Sea of Soil, you play as a small green worm who must navigate his way through tunnels and other terrains, loaded from various image files. At its heart, it is a simple maze game, but the freeform nature of the level design (almost any image can be loaded and played) makes it something different. Essentially, it is like playing a game based on the 8x zoom function of Paint.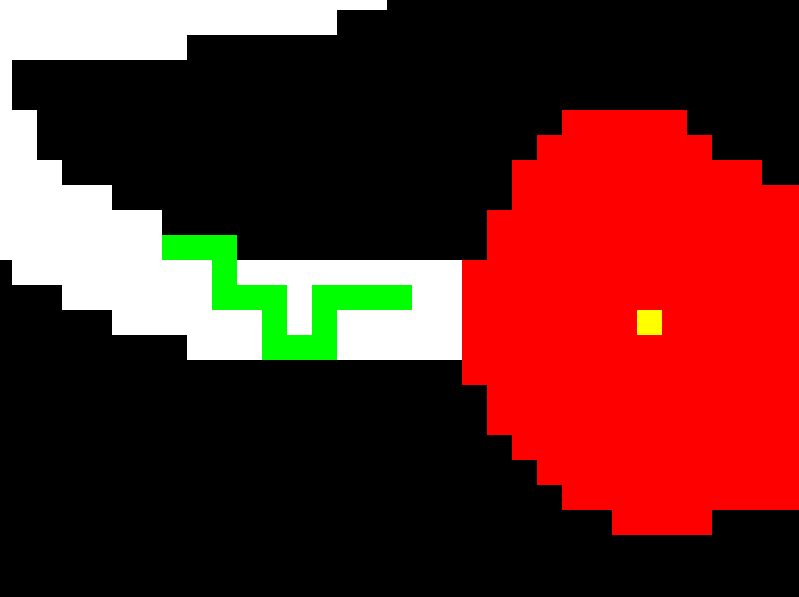 Ceramic Shooter
This game is an "Anti-SHMUP," as the goal is to avoid shooting things. You must pilot a malfunctioning ship (with a constantly shooting cannon) through a civilian sector, where you must cause as little damage as possible. With seven bizarre, timed levels, each concluding with a boss "fight," many strategies must be employed in order to accomplish this deceptively simple goal. This game will work on Vista.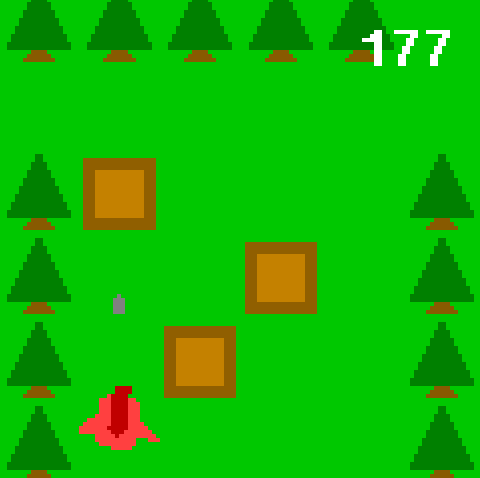 R-Theta II
EXPANDED EDITION: R-Theta II is a game based entirely in polar coordinates. The Expanded Edition includes many new features and gameplay elements, including nine new enemies and improved game options, such as the ability to fully customize controls. An earlier version of this game has been featured on a cover CD of the October 22nd issue of the Czech computing magazine Svĕt-Pocitacu.

I have uploaded Version 1.4, which includes new music formats and minor game changes, as well as some bugfixes of problems that were present in Versions 1.2 and 1.3. Please make sure to extract the entire directory before playing.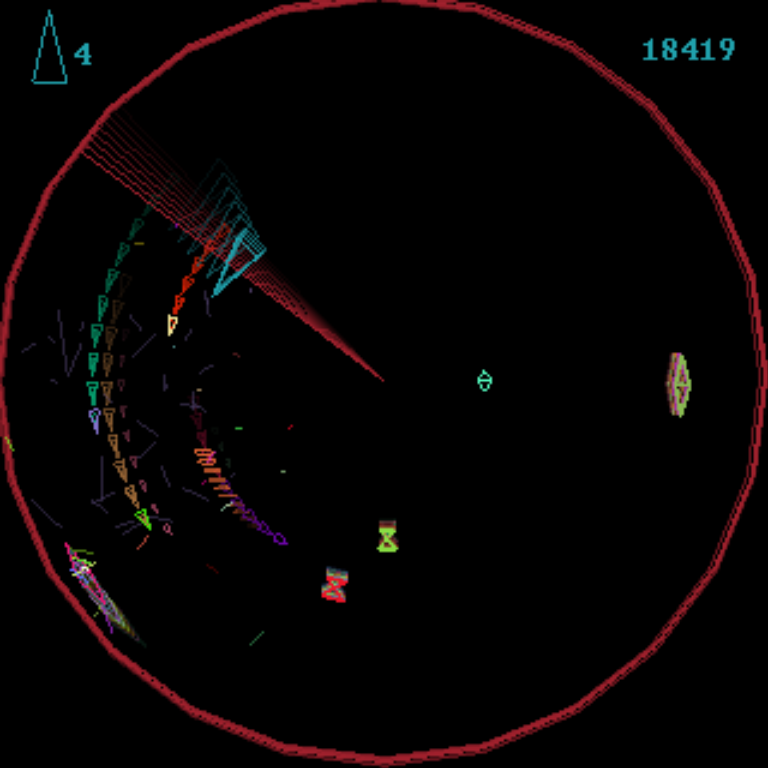 R-Theta
R-Theta is an original, abstract arcade game made in the style of the classic Atari games of the late 1970's. Your goal is to hold enemies at bay before your your radar scope line hits them. There is a major twist, though. Instead of based on a rectangular x-y plane, this game is based in polar coordinates, making for an entirely new style of gameplay. NOTE: This fairly old game was written with pre-Vista-compatible Game Maker, so it might not work on Vista or newer Window OS's.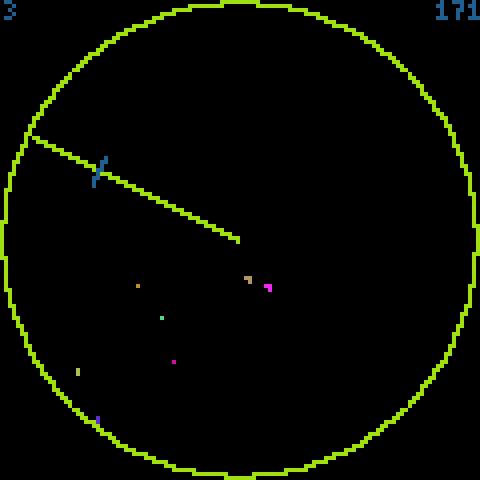 Flatland
Flatland combines classic arcade gameplay with an abstract twist. In this game, you must guide Mr. Square throughout the area, destroying the rampaging irregular polygons. My apologies to Edwin A. Abbot, of whose book Flatland the title of this game was borrowed from. The game bears a slight resemblence to the book. NOTE: This fairly old game was written with pre-Vista-compatible Game Maker, so it might not work on Vista or newer Window OS's.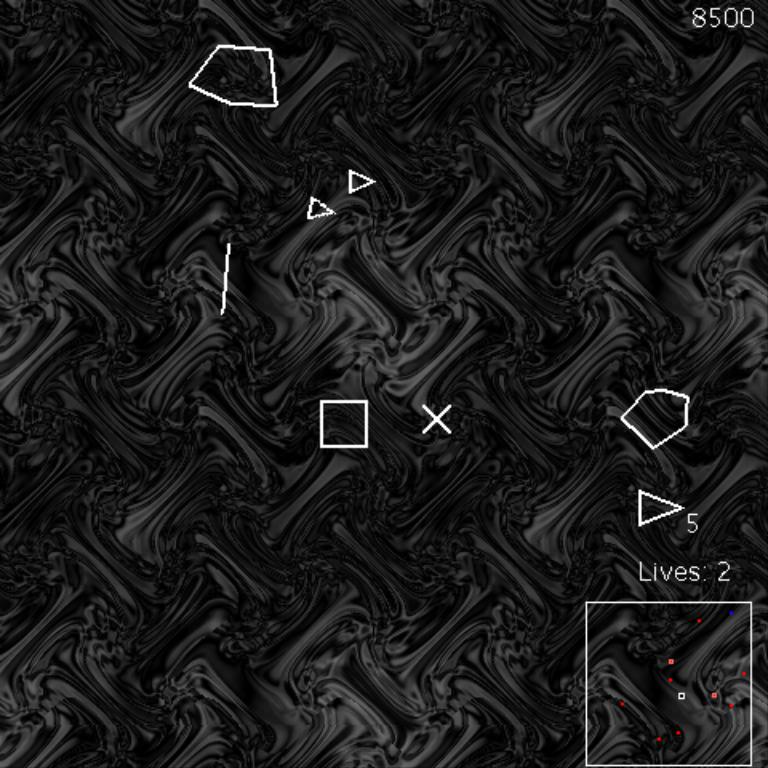 All games created by Theta Games.

For questions or comments, feel free to contact Theta Games at moc.liamg@vedsemagateht